Digital Marketing for Clothing Brands: A Strategy that Works for All!
According to the McKinsey report, digital and sustainability are the two crucial areas of digital marketing for clothing brands that will help them grow in the market. 
The rise in eCommerce business has enabled fashion brands to focus more on online marketing. Instead of just competing for foot traffic and brick-and-mortar sales, you should look for strategies that will bring more late-night clicks and early-morning purchases from your customers.
But, in this competitive industry, how will you make this happen? The answer is by adopting a productive digital marketing strategy for fashion brands.
Derek Robinson, the founder and CEO of Top Notch Dezigns, has claimed that digital marketing is the next step for businesses due to its global reach and effectiveness. It is a prolific way of capturing the attention of customers and unleashing online creativity.
So, let's explore some of the fundamental digital marketing strategies for fashion and luxury brands that can help you start your online journey and grow the business further. 
Why Do Fashion Brands Need a Digital Marketing Strategy?
Fashion brands work together with lifestyle and are often considered to provide cultural-driven products. Therefore, digital marketing should be an essential component of your overall marketing plan. Moreover, with several brands going digital today, it is significant for you to stand out in your industry. Using luxury brand digital marketing, you can leverage the following benefits to make your way out from the competitors: 
Fashion brands usually find themselves stuck in a situation where they question themselves about how they can make their customers know, like, and trust them. Digital marketing for clothing brands is the answer to their question. 
With the help of a digital marketing strategy, you can build brand recognition, which thereby helps in building brand loyalty. 
According to the benchmark report of Influencer Marketing Hub, 69 percent of marketers use social media as their digital marketing strategy to create brand awareness, whereas 52 percent of them use it to increase web traffic.  
Consumers cannot buy from you if you do not make them aware of your product offering. Therefore, be consistent about establishing your presence on different channels.
Last year, a lot of apparel retailers have to wind up their business. However, the increase in online marketing has increased the sales of the fashion industry to a great extent this year. Quite the contrast, right? 
You can also leverage the benefits of improved overall revenue by hiring a digital marketing agency for fashion brand. 
They are well aware of the changes in people's purchasing habits and help you create a website that will act as a physical manifestation of your brand. By creating a website, they also ensure that people get to know more about your company and connect with you, thereby increasing the website traffic. 
Establish a Strong Connect with the Audience
Before the internet rose to popularity, marketers used to take the help of straightforward advertising. They used billboards, TV commercials, radio ads, and a lot more to promote a brand or its offer. Even customers did not expect anything but a sales pitch from the advertising campaigns. 
However, with the rise of the Internet, social media grabbed the vast attention of the audience. It made customers develop new expectations from the clothing brands. Rather than wanting to be pitched, they started expecting an engagement of conversation and relationship. 
To stand up to their expectations, companies started utilizing digital marketing for clothing brands. It aims to maximize the marketing ROI while converting people into leads and then into customers. 
In a nutshell, if you use a digital marketing strategy for fashion brands, you will be able to establish a connection with your audience. The sales will follow you naturally when you utilize this strategy to serve your target audience.
Top-Notch Customer Service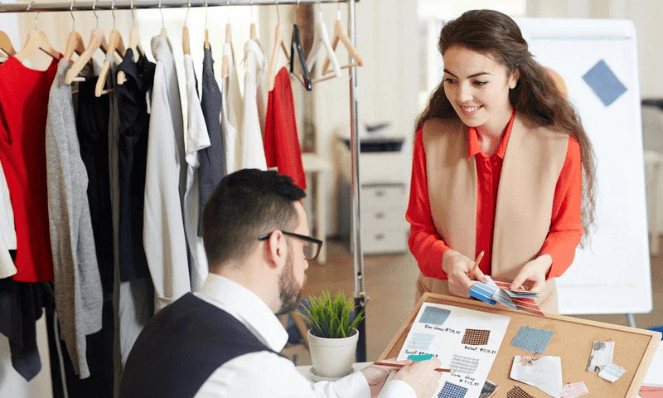 Digital marketing is recently having a technological transformation that includes advances like artificial intelligence (AI). The most crucial example of this transformation is the adoption of chatbots. This works around-the-clock as a customer care representative. It guides your customers through the checkout process while browsing your site. 
Therefore, whenever customers have a query, they get an answer for them. In case, they are unable to provide an answer, the query is taken over by the human representative. 
Digital Marketing for Clothing Brands
1. Develop Your Buyer's Persona
If you want to engage your target audience, it is significant to know what makes up that audience. It can only be done by developing a "Buyer's Persona". It is an effective strategy of digital marketing for fashion industry that helps you to understand your target market in depth. 
The buyer's persona is considered to be a semi-fictional character that not only represents the behavior of your target audience but also answers the questions that include:
The biggest pain points, goals, and motivations of your customers.

The social media platforms they are spending more time on. 

The type of content that resonates with them. 

The reasons for following your brand on social media. 

The type of answers or values they are hoping for from your fashion brand. 
After creating a buyer's persona, it is advisable to take time and study it so you are confident about your buyers' likes and dislikes. It is just the way that you know your closest family. You should also not forget to check it periodically with the help of polls, surveys, and quizzes. The customer changes over time, and so do their preferences. A buyer persona helps you stay relevant and engage well with the customers.
2. Create a User-Friendly Website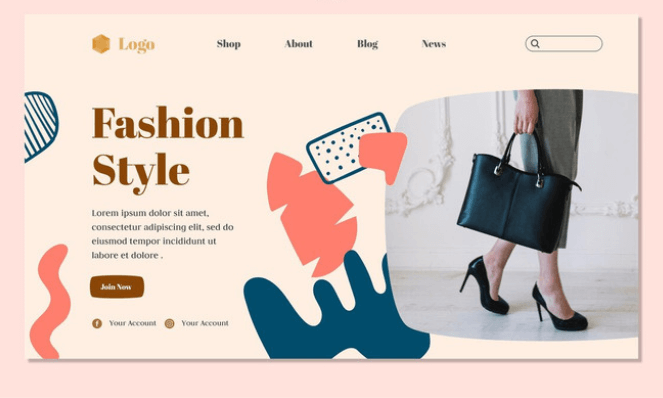 Creating a website for your fashion brand not only helps market your offers but also creates brand awareness among your customers. However, in this competitive environment, it is essential to have an effective website that stands out from the market and inspires them to take action. 
You need to incorporate features, including mobile messaging, Artificial intelligence (AI), Virtual Reality (VR), and predictive recommendation systems. It will make your website user-friendly, promote your products and services, and provide unique experiences to your customers. 
FabIndia, one of India's leading fashion brands, created an interactive website that is both user and mobile-friendly. They have designed a website in such a way that when you hover over a product, it will show you an image of a model wearing the apparel. It will help the customers to feel how the product would look on them.  
So, you should make sure to design your fashion website that will provide your user with a seamless experience as well as a realistic feel of the outfits you are selling.
3. Increase Traffic through SEO and Content Marketing Techniques
Generating traffic is very essential for purchases to occur in your business, and the secret to doing so lies in Search Engine Optimization and Content Marketing. These digital marketing strategies for fashion and luxury brands will help your site rank better in the search engine. 
By incorporating SEO keywords in your product titles and meta descriptions, you are likely to witness increased exposure, which leads to an increase in site visits and conversions. 
On the other hand, using a content marketing strategy assists you in keeping the acquisition expenses low and warming up the leads. It means when you serve appropriate and relevant content material to your customer, you can build a better relationship with them. Thus, the more your customers see your content, the more they will become familiar with the brand. 
You can display your fashion expertise by writing informative blogs or creating a style guide to assist your customers. It proves to be a great way of keeping your audience hooked and engaged.
4. Leverage Social Media to Maintain a Consistent Presence
Another strategy involved in luxury fashion digital marketing is social media marketing. You should make your fashion brand consistently present on all social media platforms. It is because social media platforms are the place where you will get all the queries related to your products. These platforms are also regarded as a place where top brands showcase their products most prolifically. 
Let's discover each of the social media platforms in detail and learn the ways to boost your fashion presence and increase sales.
"End Of Season Sale" campaign According to the World Population Review, India is the country with the highest number of Facebook users in the world (i.e., 416.6 million). 
Among them, some claims to discover a lot of fashion inspiration from the platform. Hence, the opportunity of engaging with a new audience and creating brand loyalty on this social media platform can't be ignored. 
Facebook also enables you to share your designs or your apparel with the audience you are targeting. It means that if your target audience is between 18-35 years of age, they will show your products, offers, or ads to that particular audience only. 
Let's see how Facebook helped two of the most popular brands, Raymond and Allen Solly, in achieving their goals effortlessly. 
Raymond, the leading fashion and fabric retailer in India, wants to increase its sales in its four outlets and encourage customers to visit their stores. They decided to achieve their objective by starting a Facebook lead campaign for its four stores in Rajasthan and Gurugram. With the help of this campaign, they measured an increase in their sales by 78 percent and in-store traffic by 58 percent. 
On the contrary, Allen Solly, a leading brand in the premium apparel segment, wanted to boost engagement levels with fans and customers on Facebook and improve conversions. They decided to launch a campaign called "End Of Season Sale" on Facebook. They also developed a Scratch Card Facebook application that can provide participants with discounts ranging from 30 to 40 percent on their apparel. The campaign was a huge success as it enabled the brand to generate 2194 percent revenue.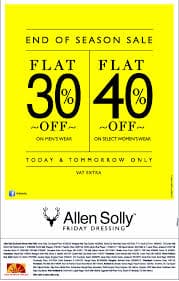 According to the survey conducted by Facebook, Instagram has become the leading place to discover fashion products. 
When you use a strategy for fashion brand digital marketing that entirely focuses on this platform, you tend to reach millions of Instagram users. Now the question arises, what type of content you should share on Instagram? 
The answer is quite simple: Instagram stories. It is aptly said that stories tend to outperform highly produced ads on Instagram.
Let's take an example of one of the famous fashion brands, Nordstrom that filled their Instagram stories with their holiday shoot's behind-the-scenes. Seeing the models joyfully bouncing around, the brand becomes a craze among teenagers. Although the brand was known for its standard quality, seeing the clothes in action increased their excitement for the new season and, most importantly, boost their trust in the brand.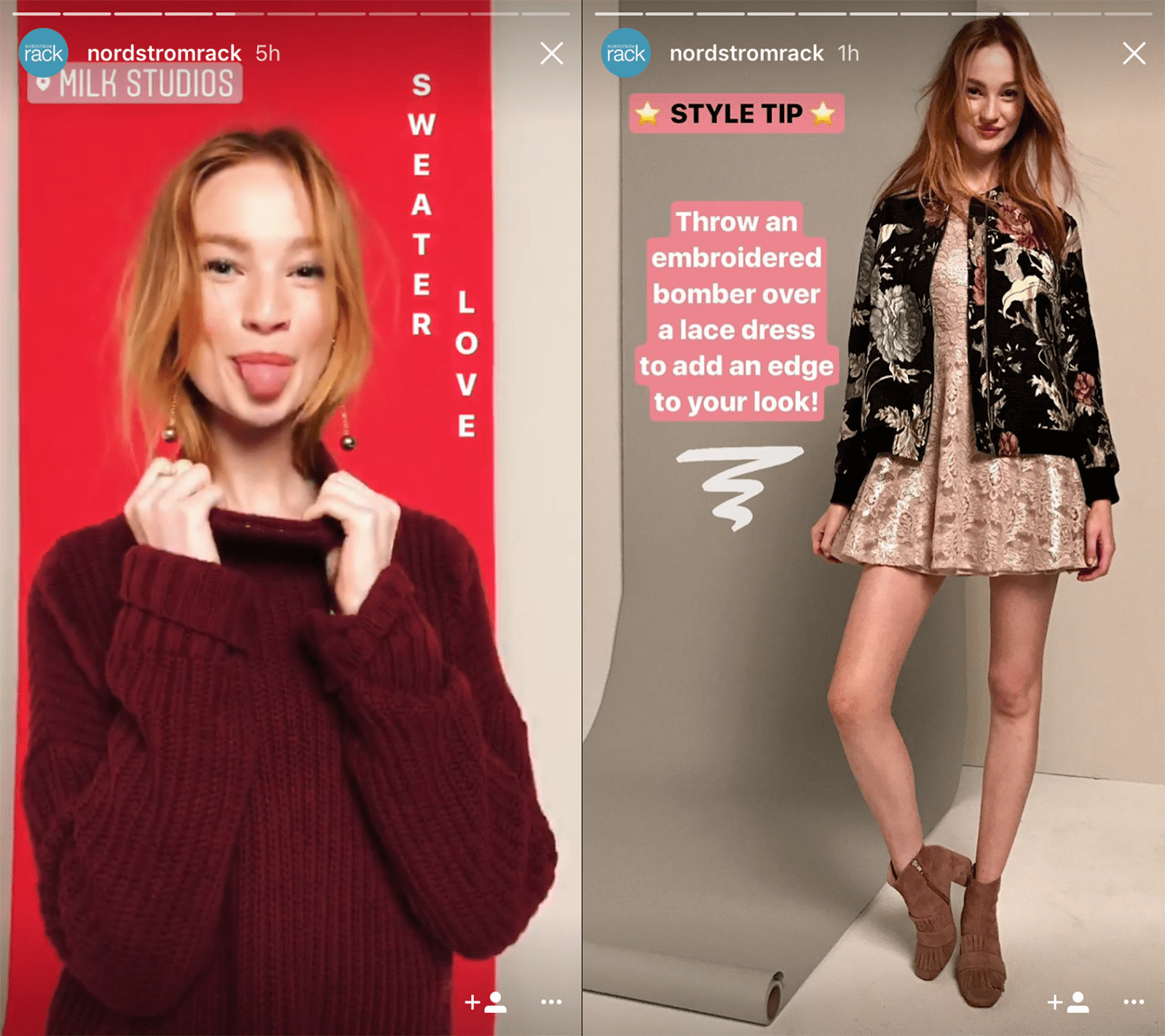 While Facebook ads work relatively well for smaller eCommerce brands working with limited budgets, larger fashion brands like Chanel use Youtube as their digital marketing strategy for fashion brands. 
These luxury fashion brands tend to dominate the space by creating organic content through their channels on Youtube by focusing on ads. 
India's leading fashion brand, Bewakoof wanted to make Youtube a revenue-generating channel using a full-funnel eCommerce marketing strategy. They thought of starting a Youtube ad that will showcase their trendiest collections as well as GOT collection by maintaining their brand essence. The craze around the Game Of Thrones' season finale is a perfect time for them to capitalize on the trend and showcase their collection. They executed the plan by delivering video content through YouTube TrueView Shopping Ads. It grabbed a lot of attention from both the visitors and viewers. Hence, they were able to make about 9000 plus sales and 1758 View-Through Conversions. 
You can also use Snapchat as a strategy for digital marketing for clothing brands through Snap Ads and Story Ads. Although 14 percent of Snapchat users use this social media platform for discovering new products, more than one-fourth of the purchase is made when they see something they like. 
As far as the content format is concerned, the Snap Inc Report states discovering content commercials on Snapchat will increase ad awareness by 65 percent. 
The stats even indicated the effectiveness of using video ads on the platform.
Pinterest is a visual social media platform that you can consider as one of your digital marketing strategies for fashion and luxury brands. In this platform, the user tends to "Pin" the items they like into their Virtual Boards. Moreover, native shopping pins (images saved to Pinterest from a website) enable savvy brands on Pinterest to showcase their products to new people. 
Nordstrom is a perfect example that started using Pinterest as a way to inspire its customers and tell a visual trend story. They also added the "Pin It" button to their product pages, enabling the customers to collect their favorite items effortlessly. They also use Pinterest to share the popular products from Nordstrom, pins on fashion trends, and helpful tutorials. 
Twitter is unique in terms of interactive marketing communication. You can use Twitter as one of your luxury fashion digital marketing strategies to promote your brand. You can use hashtags to grab the attention of a broader group of audiences. It also increases the speed at which information is seen.
The best example of using hashtags was the #MyCalvin's by Calvin Klein. In 2014, Calvin Klein reused its iconic jeans ad from the 80s to create a hashtag. But, this time, they focused on promoting Calvin Klein underwear. Using this campaign, they asked their customers to share pictures of themselves in their Calvins. This campaign helped them in increasing their online presence and generated brand engagement with their target audience.

You can also use influencer marketing on Twitter, like Topshop, which ran a real-time Twitter campaign during the 2015 London Fashion Week. They asked multiple celebrities and supermodels to use the hashtag #LiveTrends. The purpose of the campaign is to help their customer determine the latest fashion and purchase them immediately. With the help of this campaign, Topshop managed to engage 3.8 million-plus customers, thereby witnessing an increase in their sales by 75 percent of the featured products.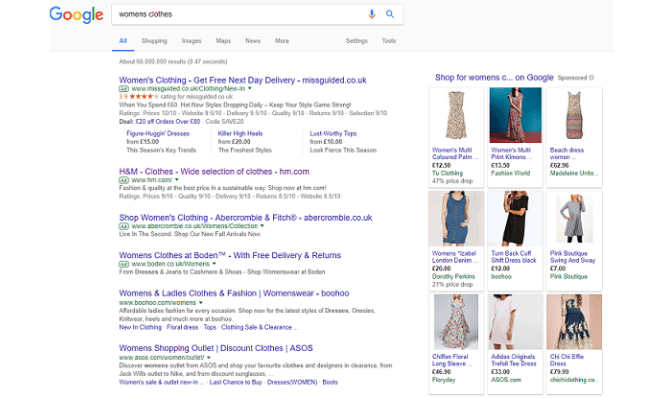 PPC ads are considered a primary strategy of digital marketing for clothing brands. It not only helps in increasing purchases but also aids you in keeping up with the increasingly competitive world of online fashion advertising. 
In 2020, the market size of global online shopping was about 4 trillion, and it is expected to have a valuation of $672.71 billion by 2023. 
So, what does PPC mean within the strategy for digital marketing in fashion industry as a whole? What options can you choose for online fashion advertising or paid marketing? The answer is ads on search engines like Google. It is considered the most common and successful strategy for retailers as it provides one of the best ROIs for any luxury fashion digital marketing strategy. 
With the help of search engine PPC ads, you tend to acquire sturdy and rapid results. It also offers faster ad sales and a very good return on ad spend. It also helps in increasing brand awareness by 80 percent, and the clicks that come through these ads have 1.5 times greater conversion rates than just organic traffic. 
6. Nurture your Potential Customers through Email Marketing
In terms of reach, content value, and personalization, email marketing still outperforms social media marketing to a greater extent. Surprising, right? 
When compared to other marketing channels, emails tend to offer the highest ROI for fashion brands. However, to create a great email marketing strategy, you need to have a clear goal. This goal will include acquiring new customers, increasing brand awareness, and assisting people in their fashion choices. It helps them to choose your brands over your competitors. 
After having set goals, you can leverage email marketing services, like newsletter builders, responsive email templates, and segmentation options to personalize emails for different target groups. 
This digital marketing strategy for fashion brands is a wonderful hack to increase conversion and ROI as a whole.
As discussed above, the fashion industry is highly competitive and operates at a crossroads of many marketing campaigns. Therefore, you need to adopt a fashion brand digital marketing strategy that is hyper-personalized and spot-on. 
With these suggestions for digital marketing for clothing brands, it is significant to include additional items in stock alongside your fashion marketing efforts. You can also consider Incrediwire, the best digital marketing agency for fashion brands, to assist you in developing an online presence for your business. All you need to do is sit back and watch your brand gets successful. 
WANT TO DISCUSS IN DETAIL
Contact Our Consultant Now